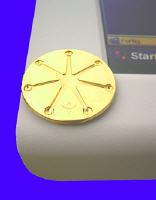 PC Disc
At last it is confirmed by orthodox medical practitioners that the radiation of computer monitors is a danger to health as it interferes with the natural energy flow of human somatic cells. The 18 carat gold plated MONITOR -DISC© (Ø 43mm) , or PC Disc, repolarizes the electromagnetic radiation.
Unprotected, symptoms like fatigue, malaise, headache, equine recurrent uveitis (ERU) or lack of concentration can easily manifest. The left-spin orientated radiation of computer monitors interfere with the biological energy flow and this leads to miscellaneous side effects. With the help of so-called "dark-field" microscopy , all correlating disturbing effects caused by these electro-magnetic fields are clearly visible in a person's hameogram (blood picture).
For your protection, mount the MONITOR-DISC© in front or at the back of the computer monitor. Computer monitors and TFT/LCD screens are not as harmless as one would think. A person doing on-screen work looks directly into the source of light for a long time. This means that the radiation hits - unfiltered and bundled - the spot of the sharpest vision, the so-called macula lutea, also called the "yellow spot" which is located on the back wall of the eyeball.
Blue light breaks more easily than red light. Its focus is on a different level in the eye than long-wave light, therefore resulting in chromatic aberrations and blurredness. This is why pilots and athletes often wear yellow glasses, filtering out the blue light. This heightens their visual acuity and contrast perception. Often AMD patients also get prescriptions for yellow glasses or lenses in order to protect their macula from destructive blue light. The big advantage of this product consists of the fact that it can not be overcharged as, for example, a rose quartz.