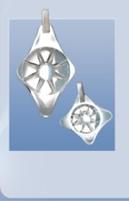 Shield of Genesis
The shape of the Shield of Genesis stands for performance, protection and unity. It creates a protective field for the entire being, body, soul, and aura. Individuals who wear the Shield of Genesis feel less violated or attacked. It reduces stress. It eases everyday's life.
Both shields -regular and large- protect when travelling. Place the Shield somewhere in your car to protect all passengers. For flight journeys simply wear it and jetlag will be reduced.
In addition to carrying it with you, it is good to place it under your pillow.
The small shield has been developed especially for the needs of older people and children. The small shield has the same qualities as the large shield, only in a softer form suitable for this age group.